A Brief History of The Lowry Area:
The Place We Call Home
The Lowry neighborhood sits on what was once Lowry Air Force Base. The base operated for 57 years by training and preparing military personnel from all branches of the U.S. and Allied Forces.
The original Lowry Field, as well as Lowry Air Force Base, was named in honor of Colorado's World War I Aerial Observer who lost his life on his 33rd flight mission as an artillery spotter. Lt. Francis Brown Lowry and his pilot, Lt. Asher Kelty , were killed instantly on 26 September 1918 when their plane suffered a direct shell hit over German lines during the Meuse-Argonne offensive.
First Lieutenant Francis Brown Lowry, USA, for whom Lowry Air Force Base was named, was Colorado's only aerial observer killed during World War 1. He was born in Denver, Colorado, on 1 December 1895, son of Nell and Walter B. Lowry. Lieutenant Lowry graduated from Manual High School in Denver, Colorado, in the year 1913.
He entered Ann Arbor University the fall of that year and pursued an engineering course. He received his degree in 1917. Lieutenant Lowry attended Officers 'Training School at Fort Ridge, Monroe, Virginia, and graduated as a Photographic Aerial Observer in the grade of second lieutenant.
He was then assigned to duty at Fort Ridge, Monroe, Virginia. On 15 September 1917, Lieutenant Lowry was granted his request for foreign duty and sailed from New York for an overseas assignment. He spent a few days in England and then sailed for France where he was assigned to a French Squadron.
He served with this squadron for two months. He was reassigned to the 91st Aero Squadron CAC, as an Artillery and Photographic Observer. He took his first aerial observation flight of heavy artillery on 13 June 1918.
The Francis B. Lowry Airfield, first established in 1937, was and is an integral part of America's history. The War Department tasked Lowry Airfield with training more than 55,000 men annually for World War II combat. Following WWII, Lowry Airfield became Lowry Air Force Base and continued to serve the Air Force into the 1990s.
The main focus for Lowry Air Force Base was technical training, including aerial photography. During World War II, the base population reached 20,000 and Lowry became so critical to the military training program that personnel operated in three shifts, seven days a week, twenty-four hours a day! The Lowry Air Force Base motto, Sustineo Alas (I Sustain the Wings), may be seen on many of the remaining historical buildings that exist in Lowry today.
During the 1950's Lowry became the Summer White House of President Dwight "Ike" Eisenhower and his wife, Mamie Doud Eisenhower. The First Lady's family lived in Denver at the time. The First couple would attend services at Chapel No. 1 on the base. The United States Air Force Academy was established and located at Lowry from 1955 to 1958 while the permanent campus was being constructed in Colorado Springs.
The Lowry Air Force Base was closed in 1994 as part of a national downsizing of the US armed forces. In order to ensure that the almost 1,900-acre site would be efficiently and suitably re-incorporated into the surrounding community, the Denver and Aurora City Councils approved the Lowry Community Reuse Plan. The Lowry Redevelopment Authority (LRA) was also created to acquire and redevelop the base. The Reuse Plan called for a mixed-use, master planned community consisting of tree-lined boulevards and quiet residential streets. The community would also carefully integrate office and commercial space into Denver's newest neighborhood — to be known simply as Lowry.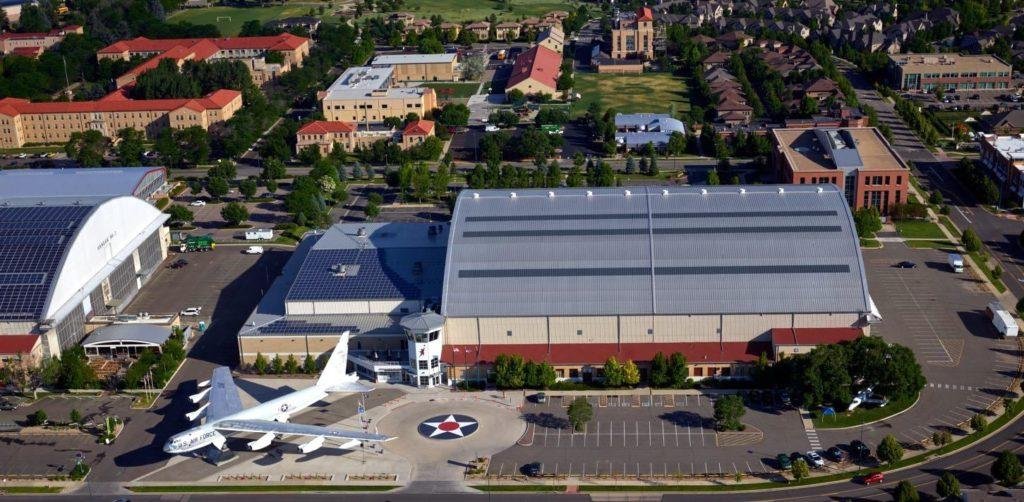 In order for Lowry to be developed as defined in the Reuse Plan, the LRA needed a variety of funding sources to complete urban infrastructure and open-space projects. In addition to numerous federal grants and the revenues from land sales, the LRA issued $72.5 million in TIF bonds through an agreement with DURA. Bond proceeds were used to help finance building demolition, construction of roadways, parks, open space, schools and other public improvements at Lowry.
The project was completed in 2009. Today, Lowry is one of Denver's premier neighborhoods and a national model of sustainable development. More than 25,000 people live, work and go to school there. Now thriving, the planned community contains homes, schools and colleges, nonprofit organizations and more than 100 employers.
One of the earliest and most successful base closure reuse efforts, Lowry is a model for other cities facing similar challenges and has received numerous awards, including the 1999 Sustainable Community Award from the US Conference of Mayors and the Department of Housing and Urban Development's Secretary's Award for innovative collaboration and sustainable growth.
Lowry Air Force Base closed in 1994 after training more than a million military graduates. The base has since been redeveloped and is a fantastic example of a master-planned community. Some of the original Lowry Air Force Base structures, including some of the aircraft hangars, offices and personnel housing were creatively re-purposed and are in use today, contributing to the story and history that makes Lowry so unique.
Sources